Gold Guide — Understanding & Caring For Your Gold Jewellery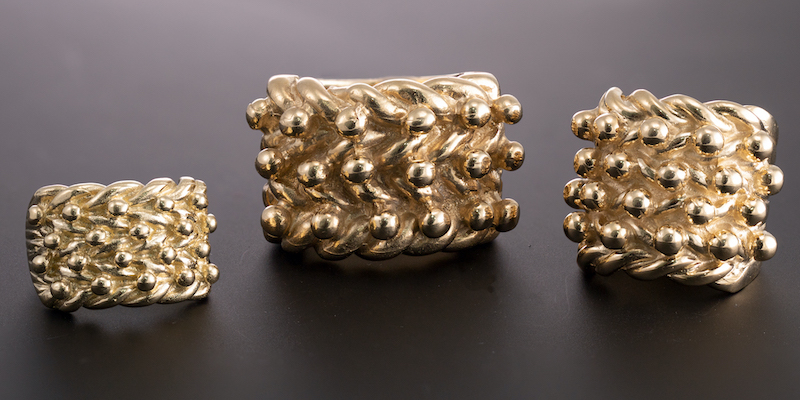 Gold Guide — Understanding & Caring For Your Gold Jewellery
Gold is one of the most sought-after and precious metals in the world, with people adorning themselves in beautiful gold jewellery on a daily basis. With gold worn so frequently, it's important to care for your jewellery and clean your gold on a regular basis.
This in-depth guide boasts expert information so that you can understand and care for your gold in the right way. You'll find information on why gold is used to make jewellery, how to clean gold jewellery and how to style gold jewellery for a look that is sure to shine.
To discover more interesting facts and jewellery hacks, take a look at our Gold Vault for gold inspiration.
Why is Gold Used to Make Jewellery?
Gold benefits from multiple qualities that make it the perfect metal for creating exquisite jewellery. One reason for the popularity of gold in the jewellery industry is that it is the least reactive of all metals. It does not react with atmospheric moisture or oxygen, meaning it is unlikely to rust or corrode.
Further to gold's resistance, it is also extremely pliable, meaning it can be moulded into various shapes and designs — perfect for creating intricate jewellery. Treasured since prehistoric times, gold has a vast history and has been known as a symbol of status for generations. It is also renowned for its high resale value. For the most part, gold is hypoallergenic, meaning those who struggle to wear other metals are usually able to wear gold.
The best part about gold jewellery is that it never goes out of style. Although designs may change with the trends, gold will continue to hold its place within the jewellery industry. Whether you are looking for gold chains, rings or earrings, they will continue to not only hold their value but also benefit from timeless and classic appeal.
What Are Gold Carats?
"Karat" refers to the unit that is used for measuring the amount of pure gold within a piece of jewellery. 24-carat gold is the highest karat, meaning it is gold in its purest form. However, gold is an extremely soft metal and pure 24-carat gold is therefore not always the best option for jewellery. Instead, jewellers mix pure gold with other metals such as silver, copper and zinc to improve the gold's durability and to allow it to be crafted into numerous stunning pieces of jewellery.
What karat gold is best for earrings?
The more gold that is used in the earring setting, the softer and less durable the earrings will be. That being said, earrings made out of 18-carat gold are often preferred as incredibly rich in colour and contain 75% pure gold.
Different Types of Gold
When buying gold jewellery there is often a choice between different types of gold colours. Gold jewellery is made from a mixture of metals and can be alloyed with silver, copper, zinc, palladium, and nickel to create different shades of gold. The most common colours are yellow gold, white gold and rose gold.
Yellow Gold
Yellow gold is created by mixing pure gold with silver, copper or zinc. It is the purest colour of gold and usually requires the least amount of maintenance.
White Gold
White gold is usually made from gold and platinum but can also be crafted from gold, palladium, nickel and zinc. It is known to be more durable and scratch resistant than yellow gold and can often be more affordable.
Rose Gold
Rose gold is alloyed with gold, copper and silver. It is often the most affordable type of gold as it is mixed with copper which is an inexpensive metal. Due to the copper ingredient, it is more durable than white gold and yellow gold.
What Are Gold Jewellery Hallmarks?
Jewellery hallmarks have been part of UK law since 1973. It dictates that certain precious metals — silver, gold, platinum and palladium — have to be stamped with individual marks to differentiate the percentage of precious metals used and provide authenticity. There are five traditional hallmarks; the assay office, the traditional fineness, the millesimal fineness, the sponsor and the date letter.
The UK houses four Assay offices which are privately run but overseen by the British Hallmarking Council. This is where jewellery is tested and the metal verified so it can be stamped with the appropriate markings. The UK assay offices are located in Birmingham, Edinburgh, London and Sheffield, each with its individual hallmark;
Birmingham - an anchor

Edinburgh - a castle

London - a leopard head

Sheffield - a rose
The fineness hallmark on a piece of jewellery shows which precious metal the jewellery has been crafted out of, revealing the weight of the fine metal in proportion to the piece of jewellery. Although the traditional fineness hallmark is now optional, there will be a millesimal fineness mark on your jewellery. You can tell if your gold is real as all gold is hallmarked with a purity marker.
The sponsor mark indicates the individual who sent the jewellery item to the nearest assay office for testing, whether that be the manufacturer, the importer, the wholesaler or the retailer. It is usually in the form of initials within a shape.
Finally, the date letter portrays the year of hallmarking and is the second optional hallmark on a piece of jewellery. The letter could be uppercase or lowercase, varying in font and framed within a shape. Look out for the font and shape to tell you which year the jewellery was hallmarked.
What is Gold Plated Jewellery?
Although a piece of jewellery may look like it is made from gold, it may in fact be gold-plated. Gold-plated jewellery is formed using a base metal like brass or copper which is rinsed, cleaned and shaped. A nickel layer is then formed over the metal before it is plated with gold.
The gold plating does not form any proportion of the jewellery's total weight. In fact, the total weight of gold plating usually equates to around 0.05%. Consequently, gold-plated jewellery generally is not as durable as the gold plating and can wear off quickly, especially with constant wear and contact with water and heat.
Here at Hatton Jewellers, we don't sell or manufacture gold-plated jewellery and every piece we design is crafted using solid gold, so you can enjoy wearing it for years to come. To find out more about Hatton Jewellers, take a look at our about us page.
What is Gold-Filled Jewellery?
Gold-filled jewellery is created by pressure bonding a layer of gold to another metal. The base metal for this type of jewellery is usually formed with silver, copper or brass. Unlike gold-plated jewellery, the gold will account for around 5% of the jewellery piece's total weight.
Due to the filling being more intense and having a higher gold quantity, the durability of the jewellery is much higher than if it is gold-plated. It is less likely to tarnish and those who are sensitive to certain metals can generally wear gold-filled jewellery without worrying about an allergic reaction.
What is Solid Gold Jewellery?
Solid gold is the highest price and purity of gold jewellery on the market. It is highly regarded as it does not tarnish and the colour does not fade over time. As pure gold is a very soft metal, gold is often made into an alloy to create a metal that will last longer.
The higher the karat of gold, the higher the quantity of gold used within a piece of jewellery. A 24-carat gold piece of jewellery, whether that be a ring, chain or bracelet, will contain the highest possible purity of gold.
How to Clean Gold Jewellery
When it comes to cleaning your gold jewellery, it is advisable to avoid using any harsh or abrasive materials that could damage or scratch the gold. Stick with warm water and a small amount of liquid soap, then leave your jewellery to soak for around 10 minutes before cleaning gently with a soft-bristled toothbrush.
Wondering how to polish a gold bracelet? Once you have cleaned your jewellery you can use a soft lint-free cloth to polish and shine your jewellery and bring it back to life. If you wear your gold jewellery on a daily basis, you should look to give it a gentle clean with water once a week, cleaning more thoroughly every few weeks.
How to Care for Gold Jewellery
To keep your jewellery in sparkling condition it's important to take care when you are wearing your gold jewellery. Be mindful not to use any harsh chemicals such as cleaning products if they might come into contact with your precious pieces. Alongside this, gardening and outdoor activities can be damaging especially for gold rings — small rocks can scratch the surface and can cause permanent damage. Therefore, it is recommended to remove your jewellery before taking part in any outdoor activities.
Alongside this, taking care to remove gold jewellery when showering, bathing or going swimming will help to avoid damage. Shampoo, shower gel and chlorine can all be damaging to your gold jewellery and could cause it to dull.
How to Store Gold Jewellery
When storing your gold jewellery, we do not recommend just leaving it on your bedside table or a drawer. Gold chains and bracelets can easily become tangled, and storing them alongside diamonds can cause your gold jewellery to get scratched as it is a softer metal. Instead, store your jewellery individually in a dust-free location.
Keeping your jewellery in the box it came in is always a great option as it will be a clean and safe space that will stop any chains from tangling and rings from being scratched. It is also a good idea to avoid storing jewellery in direct sunlight as it can also stop your gold from sparkling over time.
If you're looking for some top tips for storing your jewellery when you travel, take a look at our blog.
Why Should You Insure Gold Jewellery
High-value jewellery is rarely included in your home insurance plan. For this reason, it is important to insure your gold jewellery separately, especially if it is worth over £1,000. In the event of theft or accidental damage, insurance can help cover the cost of replacing any precious items.
A typical jewellery insurance policy will likely cover you for:
Accidental loss

Theft

Accidental damage

Loss of diamonds and stones

Away from home cover
Insuring your jewellery means you can have complete peace of mind both when wearing your gold jewellery or leaving it behind at home.
How to Insure Gold Jewellery
Shop around to get different quotes for insuring your gold jewellery. It can be expected that the expense of your jewellery item typically correlates to a higher insurance cost. If your jewellery is worth more than the single item limit, ensure you specify it on your policy to make sure it is covered for the full amount.
With the rising prices of gold, if your jewellery is already insured, it may be a good idea to make sure your jewellery is not undervalued or underinsured as it could delay your claim should you need it and may also cancel out your policy. Therefore, getting your jewellery valued once a year could help save any disappointment in the long run.
How To Buy Gold As An Investment
Buying gold as an investment has become increasingly popular in recent years. From gold sovereign coins to gold jewellery, it will hold its value, even increasing through times of economic uncertainty. Where paper currencies may lose value, there is only a finite amount of gold in the world which means the value is unlikely to fall.
Unlike some other investments, you can wear your gold without it losing any value. Gold chains and chain bracelets are the perfect option for somebody looking to start out in jewellery investment as they are typically more affordable to buy and also make a great accessory for day-to-day wear.
Additionally, while it is best to gain some general knowledge about gold investment, knowing everything about gold is not necessary just as long as you are buying genuine gold from a reputable jeweller.
Is It Better to Buy Gold Coins or Jewellery for Investment?
Gold is a great liquid investment that provides financial security and while gold jewellery can be worn and hold its value, is it better to invest in gold coins or jewellery? Gold coins can give you the opportunity to buy gold in its purest form, without the changes that have to be made when making gold jewellery.
How to Style Gold Jewellery
Gold is a classic metal and may be easier to style into your outfits than you first think. Gold is a great way of dressing up your little black dress or plain black t-shirt and can look great paired with other metals. Chunky gold chains are also a perfect way to style up your everyday casual attire.
If you are looking for a little more bling, diamond-encrusted gold chains are a great way to spice up any outfit. For a more feminine look, stacked delicate gold rings make your whole look more stylish.
Deeper hues are the ideal match for gold jewellery to really make it pop. Colours like emerald green, royal blue, black and earthy tones will really make your gold jewellery stand out. Gold chains are easy to wear as they can be hidden beneath clothing with only a small amount showing, or they can be worn to be shown off on top of your outfit.
How to Layer Gold Necklaces
Layers of gold chains have become a huge fashion statement in recent years and the look can be quickly and easily mastered. Playing with texture is a great way to make each individual chain stand out, so why not mix and match with different styles, making sure to take into account the length of each piece?
Go for maximum impact by choosing a gold choker along with longer styles to really make an impact. For a more subtle approach, choosing delicate chains will still make a great statement without it feeling too over the top. While charms and pendants will look amazing, they can often make your chains tangle together, so opting for a simpler look may work out better in the long run.
Gold is a precious metal that has been used to make jewellery for centuries. Whether you're buying gold jewellery to wear or as an investment there are many tips and tricks that Hatton Jewellers can help you with. For more articles check out the Hatton Jewellers blog.