Gold Chains Guide — How to Choose, Style and Clean a Gold Chain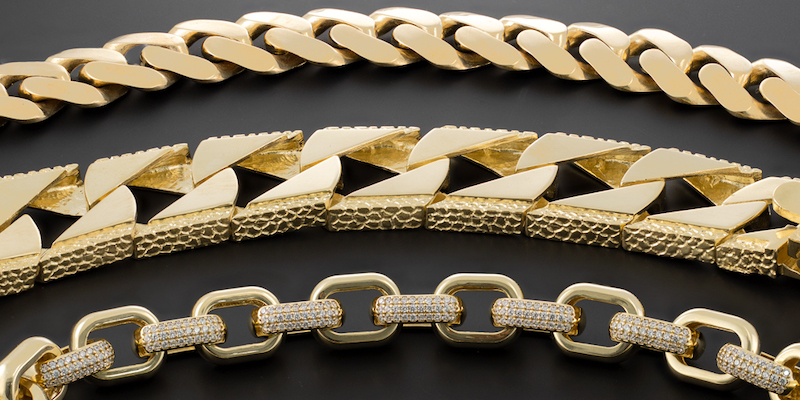 Gold chains are an attractive and iconic choice of jewellery for both men and women, regarded as timeless fashion accessories that never go out of style. At Hatton Jewellers we are asked lots of questions about gold chains, from choosing the perfect style to everyday care tips.
This in-depth guide to gold chains is full of useful information about this statement jewellery, which often symbolises wealth, power and prestige. You'll find information on how to clean your gold chain, the different types available, and how to style a chain for maximum impact.
How to Choose a Gold Chain
When it comes to gold chains there are a wide range of options to choose from, including curb chains, rope chains and belcher chains. You'll find stylish chains made in precious metals including 9ct yellow gold, white gold and more; they may be iced-out or feature a single precious gemstone.
Choosing the perfect new chain for you means considering what styles and metals you prefer, as well as what would make the best match for your own individual look. Jewellery is a very personal accessory, so it makes sense to think carefully about what would suit you best.
Another thing to bear in mind is how well your new gold chain will fit with the jewellery you already own, such as rings, bracelets or earrings.
Types of Gold Chains
Each type of gold chain has different attributes and suits different styles, and we take a closer look at each style elsewhere on our website. Here's a quick overview of five of the most popular types of gold chain available and what makes them so popular: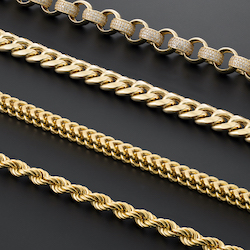 If you're looking at men's gold chains for the first time, the range of shapes and styles on offer could seem quite intimidating. However we believe that this is one of the things that makes shopping for chains so exciting — there really is something for everyone. If you do want to build up your confidence, our top 5 gold chains for men will help you narrow down your search.
We always recommend doing as much research as you can to make sure you're buying from a trusted jeweller. You might be surprised by how many things there are to be aware of when working out how to find the right gold chain for you.
Gold Chains: Types of Precious Metals
It may seem a straightforward choice, but think carefully when choosing between yellow gold and white gold chains. Both are distinctive and attractive metals in their own right, with the clearest difference between them being the contrast in colour. Ultimately, the metal you choose will be up to your personal preference.
Another important thing to consider is making sure you don't accidentally end up buying costume jewellery, which is often actually gold-plated sterling silver or brass. Some jewellers will be deliberately vague about the difference, so make sure you do your research to find a reputable jeweller when looking for a solid gold chain.
How to Care for Gold Chains
Whether it holds an emotional attachment or is simply your favourite piece of jewellery for dressing to impress, there are plenty of reasons to look after your gold chain. One of the most simple yet important things to remember is making sure you store your jewellery carefully.
Ideally your gold chain should be kept in a case that's lined with a soft material; it should also be stored by itself so it isn't damaged by rubbing against another piece of jewellery. In many cases your gold chain will come with its own box.
Other top tips for gold chain care include putting them on last while getting dressed (this prevents your chain from being sprayed with aftershave or perfume), avoiding wearing them while swimming or showering, and taking them off while doing household chores.
Where to Repair a Gold Chain
If the worst happens and your gold chain needs repairing, there are a few options available. Firstly, if the chain is newly purchased and arrives damaged or with defects, a reputable jeweller will offer a repair within a specified timeframe of you receiving it.
New products will often have a warranty that guarantees your gold chain against manufacturing defects for a limited time. Trying to repair or alter a gold chain yourself could mean the warranty is invalidated, so it's always best to go back to the manufacturer in the first instance. Always check the terms and conditions when buying gold chains either online or in-store.
If a chain that you've owned and loved for a long time is damaged or in need of repair, it makes sense to get the work done by an expert. Here at Hatton Jewellers, our experts in fine jewellery will be able to identify what needs fixing and what it will cost, then carry out the repairs according to our high standards.
How to Clean a Gold Chain at Home
When you're wearing your favourite gold chain every day, you'll want to make sure it's always looking its best. It's vital to be careful with your jewellery if it's looking tarnished or needs cleaning, and you must always take care not to use abrasive materials or liquids for this job.
The last thing you want is to damage or scuff your chain when you're trying to help it keep its shine. Using a little warm water and a soft brush will usually do the trick for routine cleaning, along with the addition of a delicate soap if necessary.
When it comes to antique or more expensive chains, we advise taking the utmost care and considering getting in touch with a professional cleaner.
Choosing the Right Length for a Gold Chain
In addition to metals and styles, you also need to think about the length when choosing a new gold chain. The most common chain lengths and sizes range from 14 to 36 inches, which makes it worthwhile knowing exactly what you want before you make a decision.
Your height and weight are both important things to consider when it comes to choosing a chain that will look amazing on you. To make sure your new gold chain is ready for Instagram, you can find your perfect measurements with a string and tape measure.
A good way to help you picture how a new gold chain would look on you is searching for images online of models wearing the type of chain you're interested in. Pay close attention to the different lengths and try to find a model that matches your body shape. You can find examples on our blog post How to Choose the Right Chain or Necklace Length.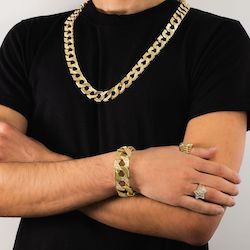 Can You Get a Gold Chain Extended?
If you want to extend or shorten the length of a gold chain, you can explore the option of adding or removing links. Whether this can be done will depend on the type of chain you own and should always be carried out by a professional.
To alter the length of your chain, get in touch with a reputable jeweller. Here at Hatton Jewellers, our experts can take a look at your chain and assess if it can be extended, advise you on cost and alter your jewellery in our in-house workshop.
Choosing the Right Width for a Gold Chain
The price of a gold chain is closely linked to its width — the thicker and heavier it is, the more you will be spending on your jewellery. If your budget can stretch to a 'heavy' gold chain, it's a clear signifier of how much you've invested in your look.
There's a wide range of thickness for gold chains, so it could range from 1mm to 25mm. Types of gold chain that tend to be heavier include Miami Cuban link chains, curb chains and belcher chains. There's even more information about choosing your new jewellery in our blog post Gold Chains: What Size Should I Buy?
How to Style Gold Chains
There's a lot of choice when it comes to choosing a gold chain — are you looking for something cool and understated, or maybe you want something that expresses your personality? Why not think about taking inspiration from celebrities' chain collections too — we've got a definitive list of hip-hop jewellery inspiration to give you plenty of ideas!
You can wear a chain over or under a polo or collared shirt, depending on what you want your jewellery to say about your vibe and personality. A gold chain is a very personal accessory, so experiment with different looks and outfits to find something that really works for you.
How to Match a Gold Chain to an Outfit
A gold chain is a truly versatile piece of jewellery, making it easy to wear with a huge range of looks. If you have a range of gold chains at home, try mixing and matching them to transform an outfit and take your style to the next level.
When styling, think about which colours to pair your chain with too. For example, matching a black or white tee with a gold chain creates a truly timeless look, while wearing a chain with a shirt instantly adds a cool vibe.
For more tips and advice on the best way to style a chain, take a look at our in-depth blog post Men's Jewellery: How to Choose and Style a Gold Chain.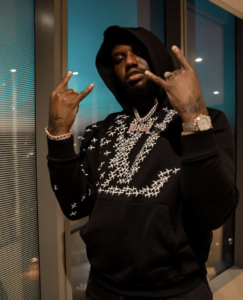 UK Rapper Headie One Styling A Gold Chain
How to Tell a Real Gold Chain from a Fake
There are plenty of sellers who are happy to take advantage of people's desire for gold chains by selling poor quality and fake items. We've previously explored 5 ways to spot fake jewellery, including the fact that any deal that looks too good to be true should be treated with caution.
If you're buying a gold chain online, make sure that you research the seller's reputation and look carefully at the listing for details about the weight and quality of the gold. If you're browsing on a phone or device, it's important to know how to spot a trustworthy online jeweller.
What Does '375' Mean on a Gold Chain?
It's illegal to sell or describe a piece of jewellery as gold unless it has been stamped with a hallmark, which is used to tell us more about pieces of jewellery. For example, a gold chain with a '375' hallmark means that it's made from 9 carat gold.
The mandatory hallmark weight for gold is 1 gram, so any chain that weighs more than this and doesn't feature a hallmark will almost always be a fake. You can learn more about what each different type of hallmark means in our guide to jewellery hallmarks in the UK.
Are Gold Chains a Good Investment?
Gold has traditionally been a good choice for investment and is a precious metal renowned for holding its value. Throughout the centuries, gold has remained a popular investment during turbulent times and economic downturns, so there's no reason to believe things will change any time soon.
Among the main reasons that gold chains are seen as a good investment is that they are liquid assets, meaning it's an item you can cash in with a quick turnaround if necessary. As we mentioned above, gold is renowned for holding its value even during times of financial uncertainty, such as recessions.
Not only will a gold chain improve your wardrobe, it will also make for a solid investment in your future. Not many fashion accessories can say the same!
Does a Gold Chain Make a Good Gift?
If you're thinking of a luxury gift to mark a special occasion, jewellery is always a fantastic option. Whether it's a special gift for Christmas or a Father's Day surprise they won't forget, a gold chain is an amazing gift for family, friends and loved ones.

Of course it's always a good idea to treat yourself often as well, so maybe you want to find a gift for yourself? Perhaps you would like to channel a modern style icon, inspired by Normal People's Connell chain, or perhaps you would like to emulate your favourite rapper's iced-out jewellery. Either way, we say treat yourself — there's bound to be something in your budget!
Who Has the Biggest Gold Chain?
Gold chains have a strong association with hip-hop culture, going all the way back to pioneers like Run-DMC and Kurtis Blow. In recent years this trend has been taken to a new level by jewellery-obsessed rap superstars like Kanye West, Migos and, of course, Rick Ross.
Some of the most popular pendants around include stylish and iconic crucifix pendants, St. Christopher pendants and Jesus pieces. When you're looking to buy a new piece, keep in mind that Franco chains, curb chains and other types of link chain are usually the best options for showing off your new pendant.

We have a special place in our hearts for iced-out pendants at Hatton Jewellers and we're always searching for the most luxurious and attention-grabbing pieces for our customers. For more iced-out inspiration, take a look at our definitive guide to the craziest and most expensive gold chains in hip-hop.